Great Greyhound Gathering 2019
When
Saturday 7 September 2019
9am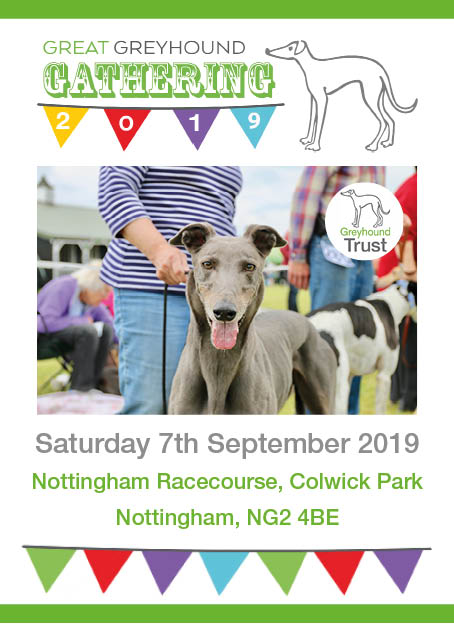 The Greyhound Trust welcomes you to the 2019 Great Greyhound Gathering!
Followng feedback, we decided that there was no better place to hold this years gathering than at Nottingham Racecourse.
As always, classes will be held for your goregous greyhound as per the following:
2019 Class List:
Greyhound Classes - Boys and Girls will be judged seperately
10am - 11am Best Condition 3 Years and under, 4 -6 years, 7-9 years,
11.30am Best Veteran 10 Years Plus
12pm Best Black Boy / Girl
12.30pm Best any other colour boy / Girl
1pm Most Handsome Boy / Prettiest Girl
Greyhound Novelty Classes
11.30am Shiniest Coat
12pm Rear of the Year (Hound not Human)
12.30pm Best Child Handler
1pm Waggiest Tail
1.30pm best Sausage Catcher
Greyhound Trust Classes:
2pm Best Greyhound Trust Homed (Boys & Girls)
Best in Show:
Best Greyhound Novelty
Best Greyhound Boy
Best Greyhound Girl
Best Veteran
Best Overall in Show & Reserve Best in Show
Placings will be 1st, 2nd & 3rd. All other entries will receive a participation rosette. All class winners will be entered into te 'Best Of' classes, that will take place in the afternoon, concluding with 'Best in Show Overall' and 'Reserve Best in Show'
Please note, there is a maximum number of entries of 40 per class, excluding Novelty classes where the maximum number of entries is 20 per class.
Pre-register for classes via the store - https://greyhoundtruststore.com/collections/ggg-2020
Date: Saturday 7th September
Location: Nottingham Racecourse
Opening Time: 9am
Class Times: From 10am
As you can imagine, it takes alot of time and effort to put together this fantasic event, whilst it is free to enter, we would be most grateful if you would kindly make a donation. We are grateful for any amount donated, but would suggest £2 and hope that you can support the Greyhound Trust and have a Greyt day!