An urgent appeal for Sadie and Donny
31 July 2017
We are appealing for a forever home for the lovely Sadie and Donny. These were both homed by a family in 2015 and sadly came back into our kennels due to a marriage break down in February this year. We feel so sad for them both as they are not coping at all well in kennels and are constantly looking sad. We give them as much love as we possibly can but sadly it could never replicate a forever sofa.
Sadie (Shes a River) will be 10 in January 2018 and is probably wondering what on earth she's doing wrong as this is her 2nd return to us both times through no fault of her own. She is a lovely black girl who is getting more beautiful as she ages. She has slowed down a little but not much and has slightly shorter walks than the rest of the kennel greys. She has no health problems that we are aware of.
Donny (Oopys Forrest) was adopted a few months after Sadie and he adjusted to life with his big sister straight away. He turned 6 at the beginning of July. Donny is more sensitive than Sadie and he always turns to her for comfort if there is something that spooks him. He has the loveliest face and once he gets to know you will give you an enormous smile whilst doing his special little nose twitch!!
Sadie and Donny will make fantastic pets, they have lived with children, cats, guinea pigs and hens so nothing really fazes them. They are housetrained and extremely well behaved. They walk well on lead and really are a joy to be around.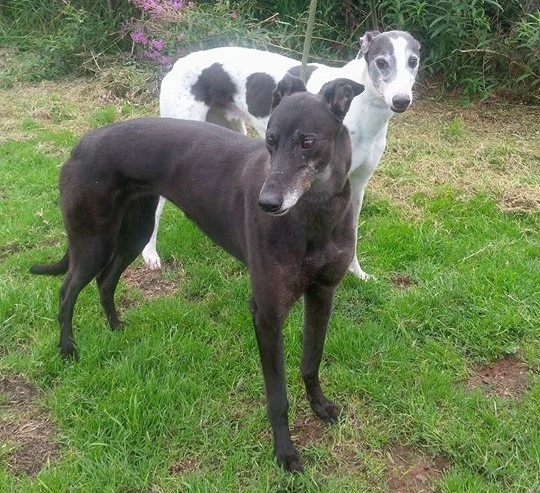 We would like to home them as a pair as they are soulmates and it will be unfair to split them. Even though they would come as a pair it would only seem like their new family would have one dog as they are so well behaved.
Can you find it in your heart to give Sadie and Donny a home, it is heartbreaking seeing them so sad and unhappy in the kennels?
If you can offer them a home please contact Mary at Greyhound Trust Coventry on 01676 540302 or 07860 372087 or by email to Coventry@greyhoundtrust.org.uk