About Greyhounds
A historical breed
Did you know the greyhound is one of the oldest breeds in history? These noble dogs have been traced back over 4,000 years to early cave drawings and are the only breed mentioned in the Bible. By giving a greyhound a home, you are taking on a true thoroughbred and a breed that has been "mans' best friend" for thousands of years!
Many famous faces throughout history have shared our love of greyhounds. One notable example is Prince Albert, whose beloved pet greyhound "Eos" was his constant companion for over ten years, accompanying him from Germany to England when he married Queen Victoria. Eos appeared in many family portraits and is the centrepiece of this beautiful painting by Edwin Landseer, a copy of which hangs in the Trust's head office.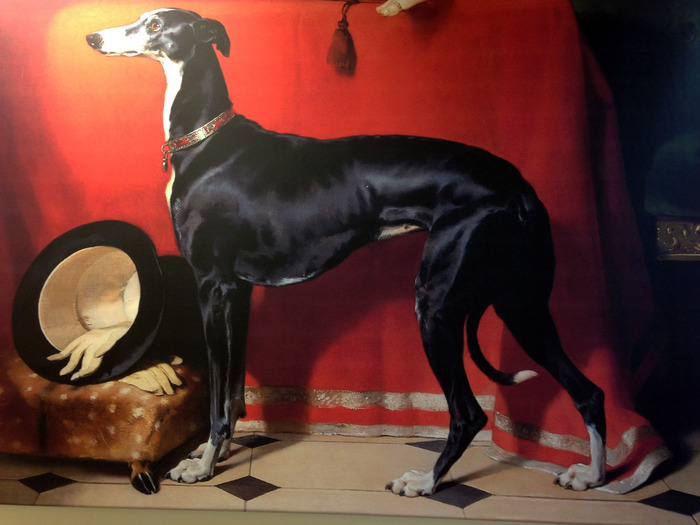 Tell me more about greyhounds...
Greyhounds come in a variety of colours: black, white, blue, fawn, brindle, dun or any of these colours broken with white. On average, black dogs spend longer looking for a home than any other colour, so if you're thinking of homing a greyhound, please consider a black beauty!
Males are usually bigger and slightly taller than the females - the typical height of a dog measured at the shoulder is between 28"-30" whereas females are generally around 27"-28". They are a pedigree breed and normally stay fit and healthy into their teens.
In terms of temperament, there is little to choose from between the genders. The breed is typically intelligent, gentle, affectionate and even-tempered. They are quite laid back and docile and, contrary to popular belief, need only two twenty minute walks each day. They are often described as 'couch potatoes', requiring less exercise than average dogs and most will walk quietly on a lead without pulling.
Because their coats are short and smooth, they don't get too dirty and generally require little grooming. They lack the oils in their coats that create that "doggy smell" and many people who suffer from pet allergies find that greyhounds don't cause the same allergic reaction that other breeds can.
Greyhounds get along with children, the elderly and people with disabilities, and often live happily with other pets, including cats.
So what are you waiting for? Click here to see our greyhounds available for homing.