Let's Hear it for the Boys
On 3rd March 2017, we will be releasing our debut charity single, Let's hear it for the Boy, performed by chart-topping artist Allan Jay.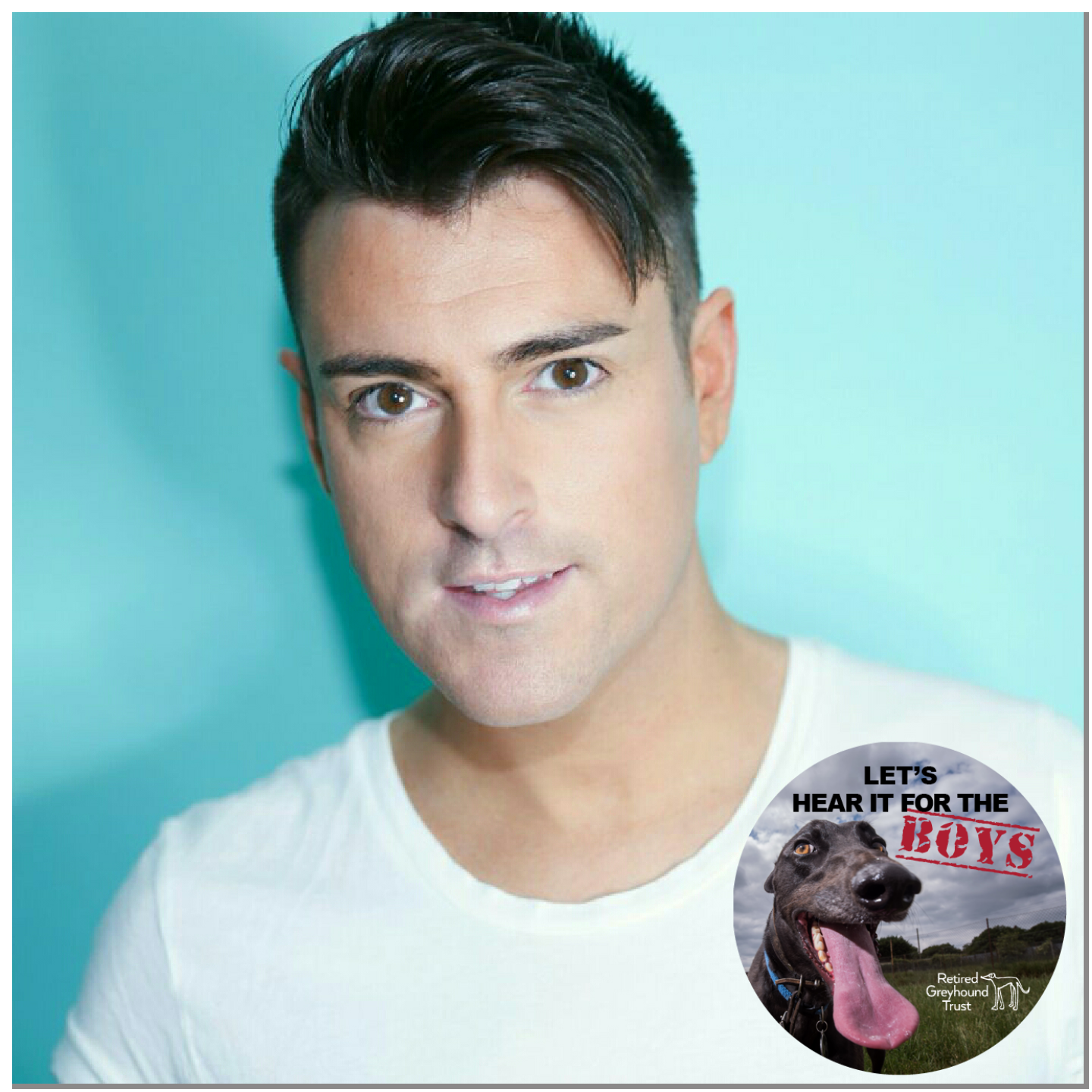 Around 80% of greyhounds waiting to come into our care are male – our branches hold around 50/50 male vs female split in the kennels. 2015 entertainer of the year, LHIFTB's recording artist Allan Jay says "I'm delighted to be involved in this campaign and I think the lyrics say it all, let's give the boy a chance and find the home that they so deserve."
The single will be available online from the wesbhop – The Greyhound store & ITunes. Follow and like us on Facebook (@greyhoundtrust), Twitter (@greyhoundtrust) and Instagram (@greyhoundtrust_uk) to make sure you don't miss the official launch!
This summer the Trust is shining a light on a unique homing hurdle: there are hundreds of male greyhounds looking for homes in our kennels who are often overlooked.
The Trust has approximately 1000 greyhounds in its care at any point in time and another 1000 greyhounds on waiting lists to fill kennel vacancies which are created when greyhounds are homed.
Jo Blake, Operations and Welfare Manager said, "We generally work to keep a 50/50 ratio of males to females available for adoption but our waiting lists are usually at least 80% boys. People looking for a greyhound often come to us specifically looking to take on a girl owing to preconceived ideas that they make better pets. We're working hard to educate the public that every greyhound is an individual and there are no hard and fast rules as to suitability for homing based on gender alone."
Our 'Let's Hear it for the Boys' campaign has been developed to give male greyhounds the attention they deserve to improve their chances of finding a home quickly.
Jo continues, "The priority for all of us as pet owners is to find the best fit of a greyhound's personality and needs to our own lifestyle so that a new family addition coming home can be as easy and stress free as possible for all concerned, both in the short and longer term. Our volunteers hear all sorts of assumptions: that boys are more aggressive or less affectionate, or are just too big for homes when the reality is that, just like people, each greyhound is different both physically and in terms of character."
Previous campaigns have focused on drawing attention to greyhounds with black coats, which account for the majority of greyhounds in Greyhound Trust kennels.
Lisa Morris – Tomkins, CEO says "The general public have really embraced the black greyhound campaign with many people now coming to us asking to specifically home a black greyhound as they know we have a large number needing to find their forever home. However, we know that girls of any colour (including black) are more straightforward to home, while many of our poor boys are left wondering when their turn will come."
"I hope that our supporters will really get behind this campaign to encourage people to consider any greyhound that could match their lifestyle rather than basing their decisions on gender or colour alone. With our supporters sharing this message on dog walks or at the park or even on social media, it won't be long before everyone is saying: 'Let's Hear it for the Boys!"
Bodybuilder James Crossley, who you might remember as the Gladiator Hunter, has been helping theGreyhound Trust promote the 'Let's Hear it for the Boys' campaign. 'I want to help break the myths that surround greyhounds. They make great family pets and fit in well to the home environment. Greyhounds only need little exercise which many people are always shocked to hear but two 20 minute walks a day is plenty. They are such dignified and quiet dogs, greyhounds really do make great pets!'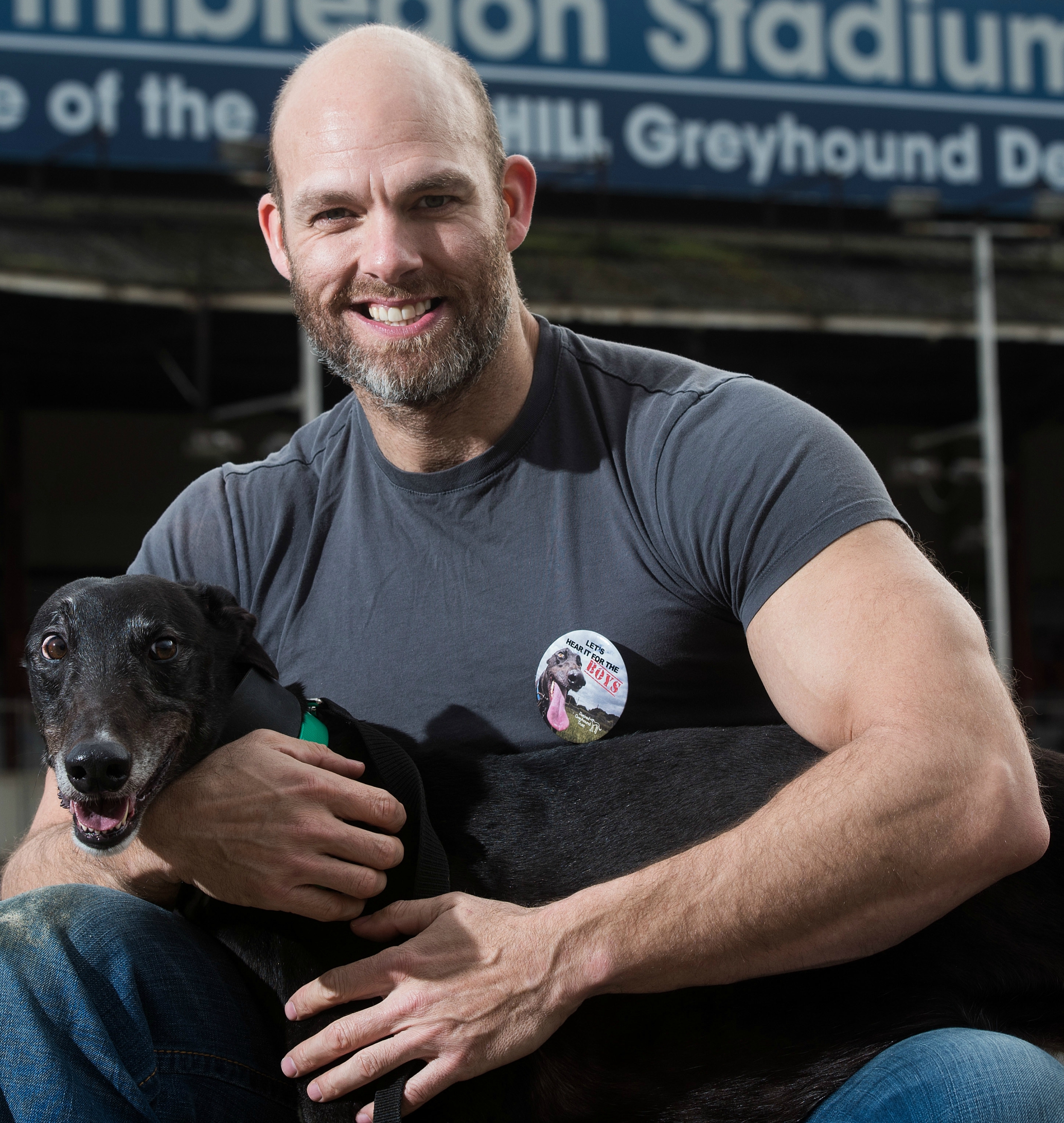 Order your free badge to help us raise awareness by emailing your name and full address to homer@greyhoundtrust.org.uk or write to us at Lets Hear it for the Boys, Greyhound Trust, Park House, Park Terrace, Worcester Park, KT4 7JZ.