Sadie and Donny - A happy ending with a new beginning....
20 September 2017
A few weeks ago we asked for your help with an urgent appeal for two soulmates who had sadly been returned to our kennels in Coventry. Sadie and Donny were not coping with kennel life and our branch team were desperate to find them a new forever home.
We asked you to help, and our post went across the internet, reaching almost 250,000 people and being shared more than 2000 times. We got a lot of enquiries and we thought we had found a family to take them, but they had to withdraw at the eleventh hour. We were disappointed, but know it was a very tough decision and one they made for the right reasons.
So, we put the call back out, and again you answered, hundreds of you liking and sharing our posts and it reaching far and wide, including to the home of Louise and their family near Bolton. As the happy owners of a 13 year old hound already, everything seemed promising, but as always we had to get a home visit arranged to make sure that it would be right for Sadie and Donny.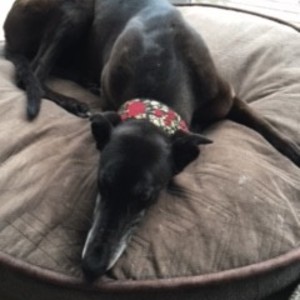 In what was becoming an increasing team effort, Joanne from our Mersey and Cheshire branch stepped in and volunteered to take on the home check on the behalf of the Coventry team. Everything went perfectly and at the weekend Louise and her family came to collect their two new fur babies...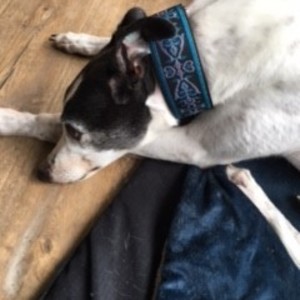 A few weeks on and Sadie and Donny are now Daisy and Tommy, and as you can see they have settled in with absolute ease. Louise tells us:
"Now re-named Daisy and Tommy, new names to celebrate and recognise their new start in their 100% FOREVER home. Daisy and Tommy are doing so well settling in their new home with great comfy beds and sofas!!
Beautiful new collars complete the transformation from "struggling in the kennels" to absolutely thriving.
Lots of people to love them and our old girl Sherbie to show them the ropes and introduce them to the neighbourhood."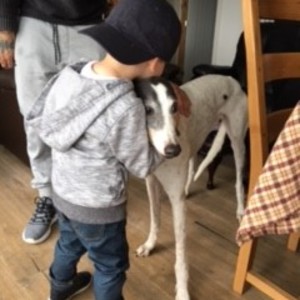 Across the UK our volunteers find homes for an average of 10 greyhounds a day, through hard work, determination, and passion. Daisy and Tommy are just one example of how a shared love for these wonderful dogs, and human compassion can combine to help two gentle, loyal, loving animals to get the retirement they so deserve, and we couldn't have done it without your help. Thank you.
To everyone involved in this story, all of you who took the time to read, comment, like, or share our post, the branch volunteers, and of course to Daisy and Tommy's new family. Thank you, you've given these two greyhounds the very best chance of a long and happy retirement....