International Volunteer Day
05 December 2017
Since 1985 the United Nations and international community have celebrated International Volunteer Day, encouraging volunteers around the world, and the organisations they work with, to celebrate their commitment and achievements. An estimated 15.2 million people in the UK volunteer at least once a month, for the Greyhound Trust, those volunteers form the invaluable lifeline between our greyhounds and their forever homes.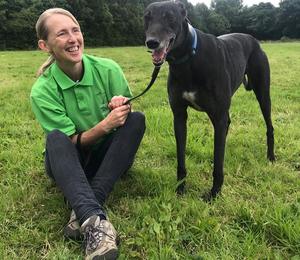 Chief Executive of the Greyhound Trust, Lisa Morris-Tomkins knows how important the work of the volunteers is to the greyhounds in our care…
"The Greyhound Trust is 42 years old and our volunteers have been with us every step of the way, from the very beginning.
Whilst our name has evolved, our focus is the same; everything we do is for greyhounds and we have 1000 volunteers doing everything that they can to secure bight futures and loving homes for retired racing greyhounds, 356 days a year, year in and year out, come rain or shine.
The same dedication and passion shown by our founders, is in every volunteer, who together with support from our small Head Office team, find loving homes for close to 4000 greyhounds annually; a number our founders would be proud of.
Volunteers are at the very heart of the Greyhound Trust, a lifeblood of volunteering and commitment to retired racing greyhounds is the foundation for the success of the Trust and the greyhounds we are here to home. I know our volunteers would say that looking into the eyes of a greyhound they have helped is all the thanks that they need, but I would like to formally add my heartfelt thanks to each and every volunteer who works tirelessly for the retired racing greyhound and for the Greyhound Trust."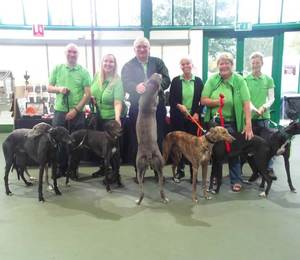 Today we say a huge thank you to everyone who gives their time to the Greyhound Trust, you really are helping us to make a difference.