Greyhound Trust announce new flagship homing centre in Horley, Surrey
30 April 2018
Chief Executive Lisa Morris-Tomkins today announced on behalf of the Board of Trustees, the exciting plans for a new flagship national homing centre.
John Haynes, long standing Greyhound Trust Trustee proudly says, "This is something I have envisaged for many years and is even more poignant at this time with the heightened focus on greyhound welfare. Head Office and show kennels on site, where the public can visit daily, will be an asset to the whole of greyhound racing."
The development gives the Trust the opportunity to secure a strong and stable base for our Head Office infrastructure, build on homing capacity, and secure the futures of retired racing greyhounds, whilst also bringing us more in line with other national homing organisations that have similar sites.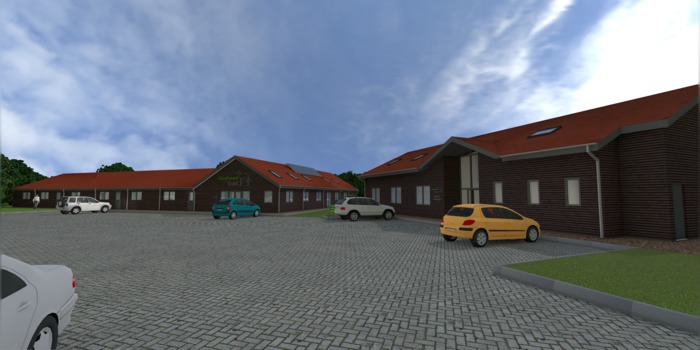 3D Visual of the planned site in Horley, Surrey
We are hugely grateful to Alex Darvill from ACD Projects, a highly regarded animal centre specialist, who worked with us through 2017 to help identify a suitable location and secure planning permission for the build in Horley, Surrey.
The site will house a modest office building and a high standard 30 kennel (60 greyhounds) homing centre, with ancillary footprint to support homing operations; such as meet and greet, 'real-life' rooms for transitioning purposes, and relevant staff offices and conveniences.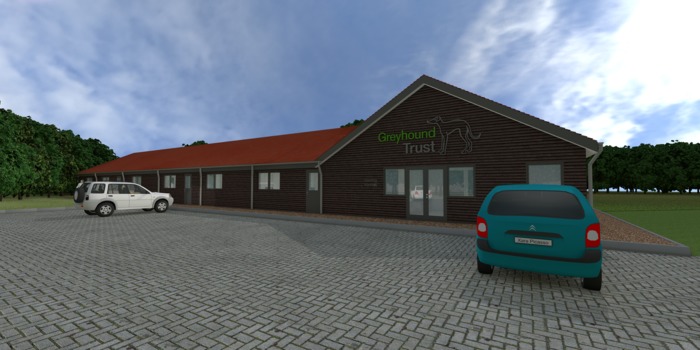 3D Visual of the planned kennel block in Horley, Surrey
The wider ramifications of this project will be positively felt across the branch network, by acting as a best practice model for our homing operations and a development tool for our branches and volunteers. All in all, the development will bring added value to our homing operations, and ultimately and most importantly will benefit the retired racing greyhound.
Greyhound Trust branches and volunteers remain integral to the Trust; the dedication that our volunteers show to the homing of retired racing greyhounds is immense and our new development will act as a supporting mechanism to the already well-embedded and vastly effective branch network.
With such a big project on the horizon for the Greyhound Trust, Chief Executive Lisa Morris-Tomkins says, "This is an investment for all retired racing greyhounds and an investment into their futures, which the Greyhound Trust strongly believes they deserve. Existing homing budgets will be unaffected, so even through this exciting phase, it will be business as usual homing greyhounds."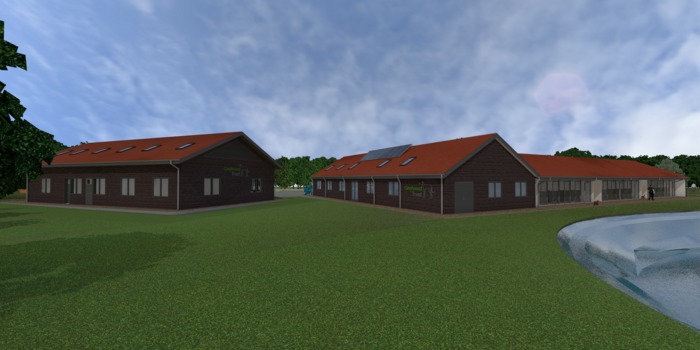 The planned kennels and office building viewed from the rear aspect
Jackie Dunn, Honorary Treasurer of the Greyhound Trust goes on to say, "This is an exciting project for the Greyhound Trust, which will help it to realise the dream of finding homes for all greyhounds leaving racing. This project will be financed separately from existing activities and with support from the racing industry."
Professor Steven Dean, Chairman of the Greyhound Trust concludes, "Whoever you are, whether an individual or a corporate company, there is a way in which you can contribute to this historical and momentous development. I invite all of those who are committed to securing the futures of retired racing greyhounds to work with us to deliver the exciting plans."