Butler, the story of a greyhound who got a second chance..
12 July 2018
While the vast majority of the greyhounds we care for at the Greyhound Trust come to us straight after a career in racing, every now and again we are called on to care for a greyhound that urgently needs our help. This is Butler's story, as told by Alison Brown from our Edinburgh branch...
In mid August 2017 I was alerted by someone on Facebook that a greyhound had been found tied up with barbed wire to a wire fence on a Sunday night, just outside Edinburgh.
I contacted the person who had found Butler, he informed me that the dog had been removed by the wardens and taken to a dog pound on the outskirts of Edinburgh. I made contact with the pound on the Monday morning (I happen to know that they have a PTS policy after 7 days). I informed them that the Greyhound Trust would take the dog and find him a home.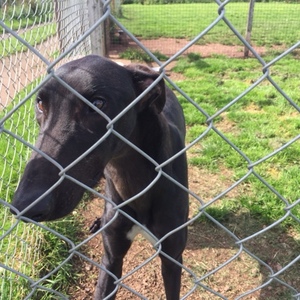 I phoned every morning for 7 days, Ididn't want them to forget that the Greyhound Trust was going to take him.
On the 7th day I went to pick up Butler. Oh my he was a sorry sight, skin and bone, really dehydrated all I could see was the whites of his eyes.
I took him straight to ICR Veterinary Practice where he was given a thorough check over. All his vital signs were good. I then took him to the kennels where he had love, food and lots of attention. He was the biggest greyhound I had ever seen! He has flat feet, a hunched back and cow knees! He looked like a burst mattress.
We checked for ear marks – none, there was a microchip but the owner could not be traced. As there were no ear marks we knew he hadn't raced but he was a greyhound and the ethos of the Greyhound Trust is to rescue greyhounds. Butler was round about 14 months old...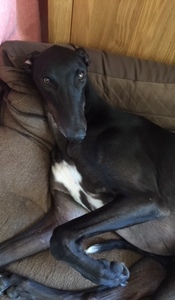 A few days later I took him back to the Vets to be neutered. I knew he had to find a home sooner rather than later but there was something about him that really tugged at the heart.
On the Sunday as folks were arriving for the walk I heard someone ask if they could take Butler out as they were interested – I don't know where the words came from but I heard myself saying 'Butler is reserved for me'!!
He has been with me for 11 months now. He is a big galoot absolutely as mad as a hatter. He was a nightmare to housetrain. He has turned into the most handsome dog I have ever seen. My other greyhounds Sam, Dusty and Jess are not quite sure what to make of him but he's our big galoot.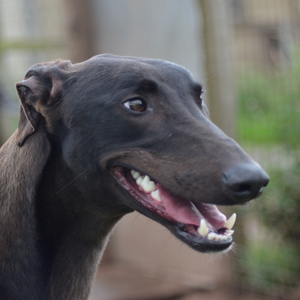 Butler is now healthy and happy and enjoying life, which wouldn't have been the case without the work of our volunteers and the support of the Greyhound Trust. It is through the generosity and kindness of our supporters and those that offer homes, help, and time that we are able to continue finding loving homes for greyhounds like Butler. For that we are very grateful, thank you.