Towcester Racecourse goes into administration - Press Release
16 August 2018
Greyhound Trust ready to lead on greyhound welfare as Towcester Racecourse goes into administration.
The Greyhound Trust are shocked to hear of the immediate cessation of racing at Towcester Racecourse, as it is placed into administration, but stand prepared to assist Towcester owners and trainers with the welfare of racing greyhounds who may be retired from racing as a result.
Since Towcester began Greyhound racing in 2015, they have publicly committed to the welfare of all Towcester affiliated racing greyhounds through supporting homing efforts with the Greyhound Trust. In 2017 Greyhound Trust branches at Dudley and Hall Green took on the direct role of finding homes for greyhounds after they finished racing at the venue.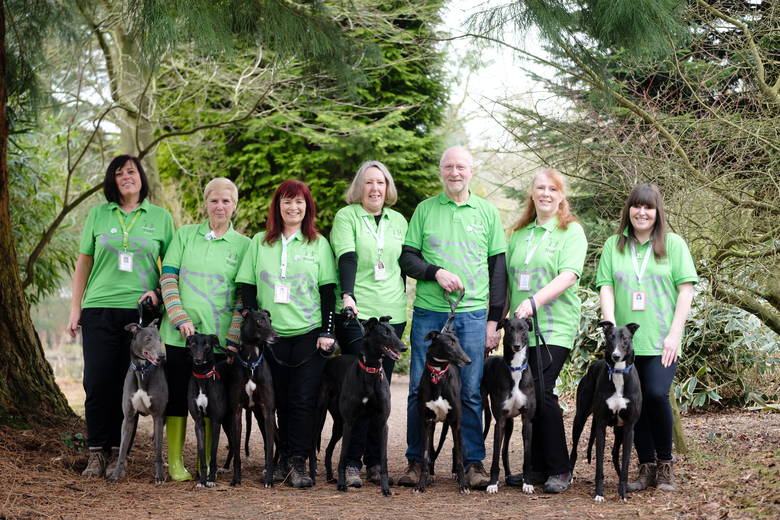 Hall Green volunteers, who are one of the branches working with Towcester.
Chief Executive of the Greyhound Trust, Lisa Morris-Tomkins said that "We have enjoyed a very positive relationship with Towcester who have always made it clear that the welfare of the greyhounds raced there is of the utmost importance. It is our hope that this commitment will be reflected by other tracks around the country, and that the closure of Towcester doesn't have a negative impact on the racing industry's broader approach to greyhound welfare. We will continue to work closely with all those involved at Towcester, and to lead a joint-charity collaboration to secure the best outcome for greyhounds raced there."
The Greyhound Trust have already made contact with Towcester directly following the news, and with the Greyhound Board to seek additional support for any emergency kennel provision that may be required. Further to this the Trust will be reaching out directly to its partners on the Greyhound Forum to secure kennel spaces for any greyhounds urgently in need. The Greyhound Trust welcomes the support of any organisation wishing to work with us on supporting the greyhounds at Towcester through this difficult time.
As ever, the Trust continues to work hard to find loving forever homes for greyhounds across the UK and encourage anyone interested in offering a home to these wonderful family pets, to get in touch on 0208 335 3016 or through the website at www.greyhoundtrust.org.uk
# # #
The Greyhound Trust is an independent charity finding homes for almost 4000 greyhounds every single year through a national network of 55 volunteer led branches across England, Scotland, and Wales.
If you would like more information about this topic, please contact Graeme Marsh at 0208 335 3016 or email at graeme.marsh@greyhoundtrust.org.uk.