Spotlight on Greyhound Trust Mersey and Cheshire
04 February 2021
Our Mersey and Cheshire Branch was formed in 2008 and is operated by a group of volunteers from the North West region. The Branch has amazing supporters and adopters who supported them with their efforts and donations to build the new kennels; from Graham, Sheena, Vicky and Carol being on-site most days, to one of our homers donating and fitting a brand new kitchen.
Since moving into these wonderful new kennels, they have homed over 70 Greyhounds, leading to a record year where 130 dogs were homed.
They also have 'Hounds Emporium' - their on-site shop, where visitors can buy a variety of Greyhound gifts, feed and accessories.
Here are some of the dogs currently looking for homes:
Danny
This 5 year old mid-sized, chocolate brown boy is so handsome and very friendly. However, he is quite reactive to other animals and other breeds of dog, so definitely needs someone with experience of larger dogs.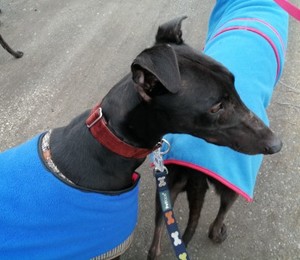 Tilly
At 4 years old, Tilly has a lovely nature and walks nicely on the lead. She's a jet black small girl with a white patch on her chest and white toes. She's a beautiful dog, but black dogs are often overlooked, so we'd be delighted if the right home materialised for her sooner rather than later.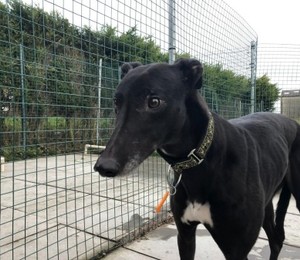 Colt
At just 2 years old, Colt is a big handsome black lad who loves his teddy! He's really cuddly and you will instantly fall in love with him. He walks beautifully on the lead but is slightly unsure and just needs reassurance. He will need socialising with other breeds.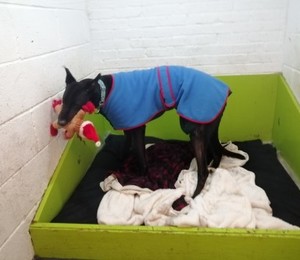 Drummer
3-year-old Drummer is a medium-sized black boy with a white chest and paws. He looks like he's been in the wars but is a lovely, sweet-natured lad. He will need socialising with other breeds of dogs. Could you be the one to offer him a loving home?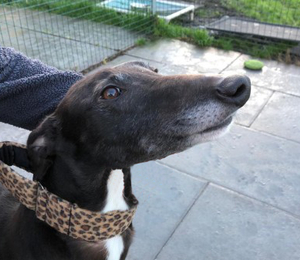 The Branch have more dogs in their care, and update their website regularly with new arrivals. If you are interested in any of the greyhounds we have ready for their forever home, please view the Branch website at Adoptagreyhound.co.uk or for further information contact Joanne on 07510 172178.