Getting creative for Greyhounds
05 February 2021
We asked you to share how creative you've been for your dogs during lockdown on our social media. We got some great responses to our #GraftingForGreyhounds post. Here are some of our favourites.
Coats
Your hand made greyhound coats.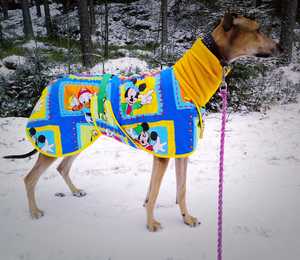 These incredible Disney coats keep Taru's greyhounds warm and unmissable. Credit: Taru Lehtonen.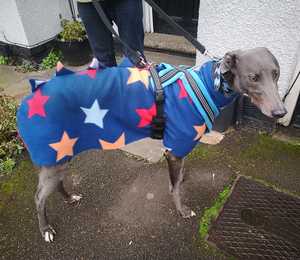 Max stands out in a crowd in this dinosaur creation. Credit: Lea Spencer-Brown
Sparky keeps warm in her lovingly made cardigan. Credit: Helen Balmforth.
Food
Some of you chose to share your creations in the kitchen.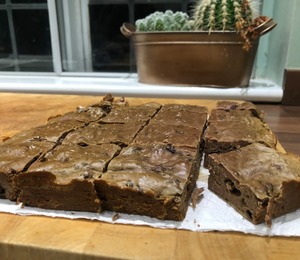 Liver brownies wouldn't appeal to me, but they're a greyhound's dream come true! Credit: Amanda Reynolds.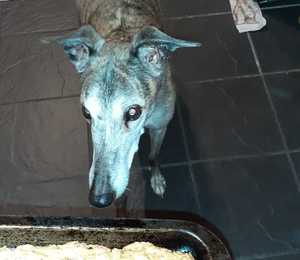 Someone can't wait to tuck into this Pilchard cake . . . Credit: Wendy Orchard.
Behavioural enrichment
Keeping your greyhounds occupied was also a priority during lockdown.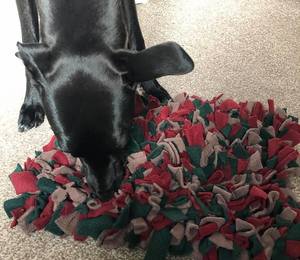 Flash enjoying rooting around in his new snuffle toy. Credit: Sophie Wilson.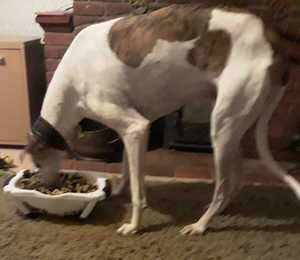 A snuffle toy cleverly made from a colander and fabric strips. Credit: Karen Fowler.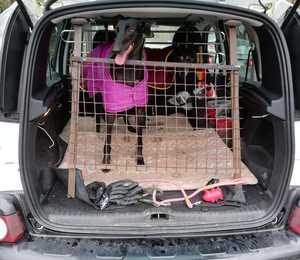 After some scary escapes, Cherry built this dog guard for her boot. Credit: Cherry Belinda May.
Amazing art
Some of you turned from the practical to the aesthetic, and produced amazing artistic creations.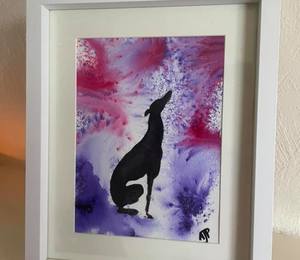 This beautiful greyhound painting really caught our eye. Credit: Amanda Pile.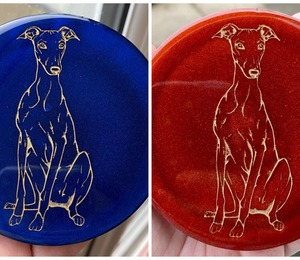 Sian worked with resin to create these striking matching greyhound coasters. Credit: Sian Norman.
We love to see what you do for your greyhounds, so keep sharing your photos with us on Instagram and Facebook!