Meet our Volunteers: Avril Park
03 June 2021
Volunteers are the lifeblood of the Greyhound Trust and we simply would not be able to operate without the support of the amazing and dedicated individuals around the UK who give up their time to support us.
From caring for and walking the dogs to carrying out home visits, attending events, fundraising or branch social media and website support, there are lots of different things our volunteers do to help make the Trust a success!

Avril Park
My name is Avril Park and I am one of the Lead Volunteers at Greyhound Trust Suffolk.

I started to Volunteer for the Trust approximately 10 years ago after adopting Martha, my first Greyhound. I had always loved Greyhounds even as a child because several people in the village I grew up in were hobby Greyhound trainers when there was a track in Ipswich. I would always stop and speak to both the dogs and their owners and was taken by just how calm and gentle the dogs were. But once I owned a greyhound of my own my love turned into a real passion, and I was very keen to promote them as the wonderful dogs they are.

Over the years my Volunteering role has changed considerably and I, along with my colleague Sue, run the Suffolk branch - ably assisted by a hard-working band of Volunteers. My principal roles involve answering the phone and emails, arranging appointments for prospective adopters, updating microchips, giving advice to new owners, loading our dogs onto various websites and social media platforms and adding updates on the dogs lives in kennels and outside of kennels, (I am not too technically minded but we are fortunate to have Sara as our technical back up). I also arrange monthly walks, meet and greet sessions and various country shows and fetes.

However one of my favourite things about volunteering is being able to assist the dogs who may need a little extra help to ready them for life outside of kennels. I quite often take them home with me for the weekend after spending time with them, gaining their trust. I also take them to training classes to introduce them to other breeds of dog in a controlled environment. Sometimes all that is required is to take them out and about around the village where the kennels are situated, visiting the local garden centre and cafe along the way.

Nothing gives me more pleasure than to be able to ready one of these special dogs for their forever home. Matching dogs to the right family is of paramount importance to us as a branch. There is nothing more rewarding than to see all of our dogs happily settled in their forever homes and to see how much they are loved and cherished by their families.

The hardest part of the job is writing or publishing tributes to the little souls who cross the rainbow bridge. I can barely see to type for the tears and have been known to stop, make a cup of tea and compose myself until I can see the keyboard again. Our owner's heartbreak is our heartbreak because we love all of the dogs who have passed through the branch.

What would I say to anybody thinking of Volunteering for the Trust? Go for it! There are so many ways in which you can help, everyone has something to offer that we are all grateful for.

The photo below is of me with Droopys Blink, one of our special boys who couldn't get to grips with other breeds at all until I spent weeks taking him to observe the goings-on at a dog creche. The guy who ran it was truly amazing and eventually Blink was able to go into the play area (albeit muzzled) with every breed you could think of.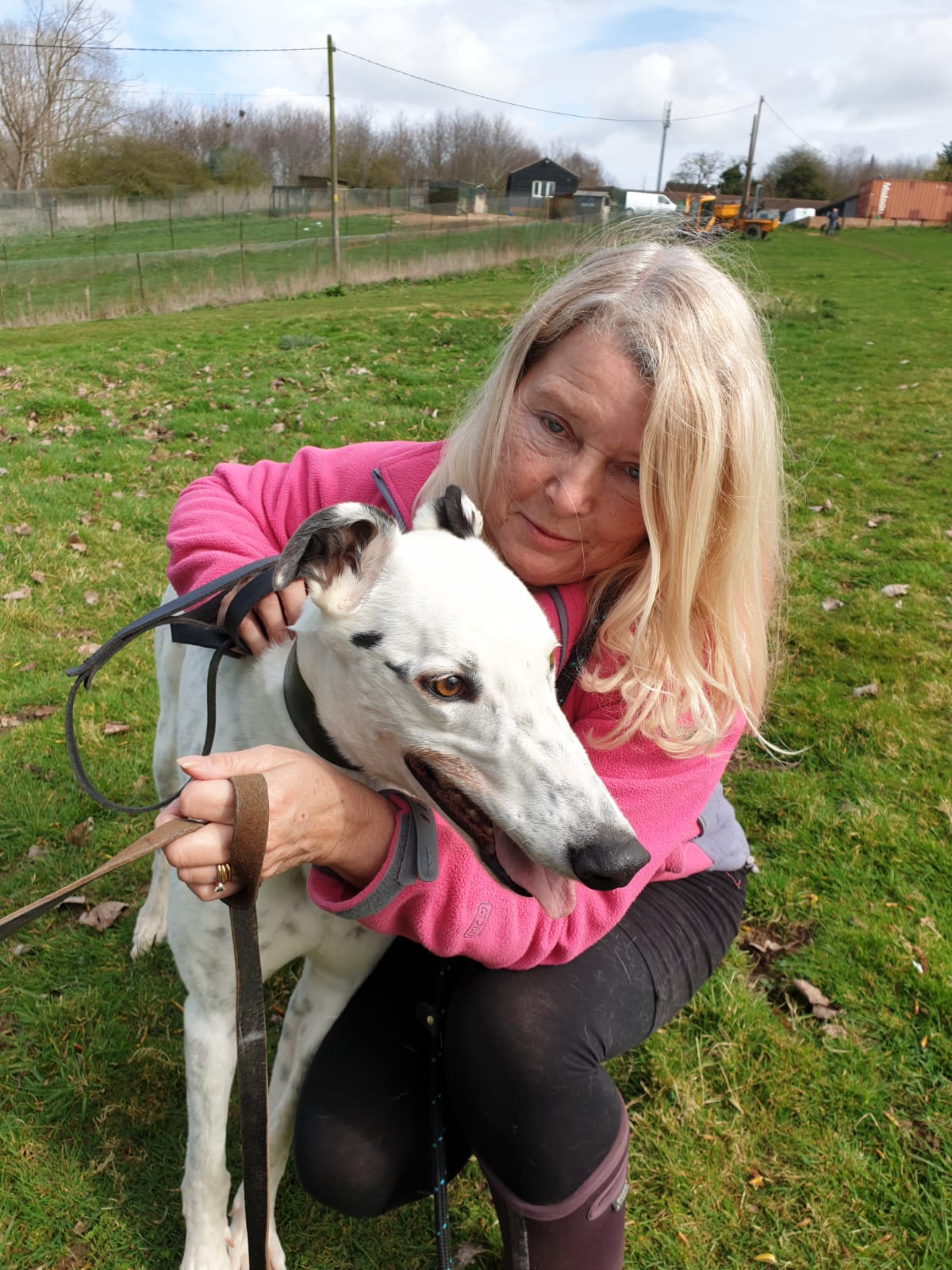 Avril Park with Blinky
If you'd like to find out more about volunteering opportunities in your area, please contact your local branch.