Greyhound Boarding
Book now to avoid disappoinment as we have very limited availability - your greyhound will thank you !
Who better to look after your greyhound for those times when you can't?
If you are close to the National Greyhound Centre (Surrey / Sussex / Kent borders) or flying from Gatwick, we are the perfect solution for boarding your greyhounds.
Whilst you are away, our experienced greyhound team will care for your greyhound. We offer spacious temperature controlled bedrooms and access to attached runs, play paddocks, and real life rooms. Excellent secure premises, with Greyhound Trust on site.
From just £34 plus VAT per grey per day. Special discount of £54 plus VAT for 2 greyhounds from the same home sharing a bedroom.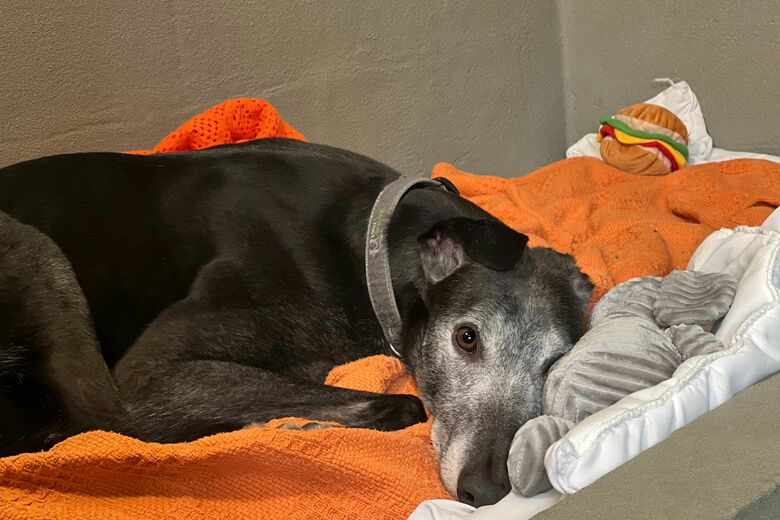 Snuggly large bed areas, with home from home duvets and blankets provided.
"I think I just overheard them say we can holiday at the National Greyhound Centre ! YAY"
DATE RATE INCLUSIVE OF:
4 x walks and socialising opportunities
WhatsApp update with photos
Bedrooms cleaned multiple times per day
Heating in winter and air conditioning in summer
ADDITIONAL OPTIONS AVAILABLE (charges applicable):
PARKING: There is space to leave your car on site at your own risk - we ask simply for a suggested donation
CLEANING: Coat and bedding wash
PAMPERING: Nail clipping (£20), teeth cleaning (£20), grooming and bathing (£35). All prices subject to VAT
Dont delay - very limited availability
To enquire, contact: boarding@greyhoundtrust.org.uk or telephone 0208 335 3016.
To book, download the Boarding Application form
Boarding Licence Number: 23/00706/AWABD