Tributes: In Memory
Creating a free and lasting tribute is a beautiful way to celebrate, honour and remember those who are in our hearts but no longer with us.
Greyhound Trust Tribute pages are simple to set up and use. It provides you with the very best way to record and share your memories and stories. You can add pictures, music and video, as well as light virtual candles to help you create a truly special and unique tribute to your loved one.
There are also additional features to enable you to record ongoing events and activities carried out in memory, as well as the ability to process donations if you are looking to fundraise for Greyhound Trust in their memory.
Click Here to a create a tribute for a loved one Always in our hearts, never forgotten, always loved.
Click to find a Tribute already created
The 1st ever tribute page created in loving memory of Jack Murrell, fundraiser and friend of Greyhound Trust: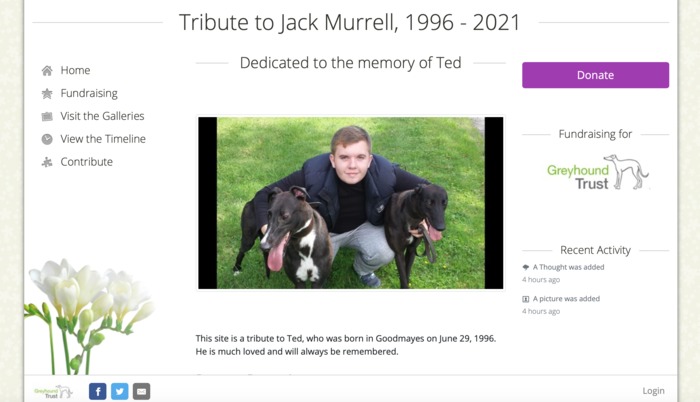 Collecting donations in lieu of flowers or as an in memory opportunity at a loved ones funeral, is a lovely way to support a cause that they cared passionately about.
So, if someone you loved, loved Greyhounds, and you would like to collect funeral donations and gift to Greyhound Trust in their memory, make sure to add this option to your Tribute pages or ifyou prefer, Create a funeral notice and collect donations here