Fundraise for us

It's fantastic that you have decided to fundraise for the Greyhound Trust. Fundraising can seem daunting, but once you know what activity you want to do and start raising funds, you'll find it's not as intimidating as first thought. Any amount raised makes a real difference to the lives of retired greyhounds and we simply would not be able to operate without your support.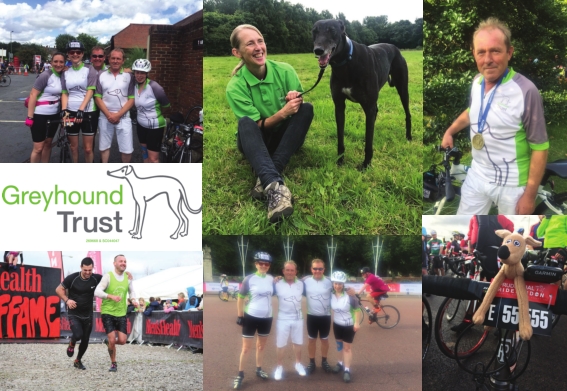 Follow our below step by step guide to get you on your way to fundraising for the Greyhound Trust
1. Choose your fundraising activity
Have you ever fancied pushing yourself to run a marathon or obstacle course? Or would you prefer something more sedate such as organising a cake sale, coffee morning or quiz night? Whatever capabilities, there is something you can do to fundraise.
Here are a variety of activities that you could do to fundraise:
Cake Sale
Coffee Morning
Tombola
Quiz Night
Raffle
Trek
Cycle Race
Marathon
Obstacle Course
Skydiving
Click here to see how you can still raise money for Greyhound with our Indoor fundraising ideas.
2. Set up your Fundraising Page
Now that you have chosen your activity, its time to start fundraising. Online fundraising pages are quick and easy to create and sharing them with friends and family on social media is a great way to generate donations.
Visit the Greyhound Trust JustGiving page to set up your own fundraising page.
3. Ask for donations
Now your all set up, its time to start raising funds! Ask you close family and friends to make the first donations which will give your campaign a kick start.
But don't just limit fundraising to your friends and family. Why not use email to reach out to supporters and work colleagues, explaining why their support is so important. Don't forget to also share your JustGiving page across your social media channels!
4. Keep momentum going
Remember to keep your community updated on how your fundraising is going. If you are training for an event give them updates on your progress and show pictures of your preparations.
It may sound obvious but thanking your supporters and reminding those who haven't donated that all their support really makes a difference and goes a long way. You may even find that after you have achieved your goal and succeeded in your activity, donations are still made to your page.
If your still wanting great tips to help you fundraise for the Greyhound Trust, you can download our Fundraising Guide 2019 to get you started. For downloadable fundraising materials click here.
If you would like to find out more or to let us know about your fundraising activities, Contact Us.