Shopping Online

Cracking Your Dog's Genetic Code, Which Breeds Make Up Your Pet?
Is your dog a boxation? Or a colliedor? Using our unique service you can find out the ancestry of your mixed breed dog. All it takes is a simple and painless DNA test you can do in your own home.

Perhaps you have a mixed breed dog who has been a valued and loved member of your family for years and you have always been curious to find out what's in the mix. Maybe you have homed a rescue dog and you want to give it the best possible life by fulfilling all its needs? Blackdog can help you because we are passionate about dogs, their behaviour and their wellbeing!

By finding out what breeds are in the mix, we will provide you with our own unique personalised behaviour profile for your dog. You will then be able to understand your dogs needs and drives, and give him or her the chance of the happy life he really wants and deserves.
Want to try it for yourself? Black Dog DNA, the company who tested Rosie, is kindly donating £2.00 to the trust for every kit that is ordered using the code ADCH042. So, treat yourselves and your non greyhound friends to an amazing experience in the knowledge that you are also helping the greyhounds that we all know and love. More information can be found at www.blackdogdna.com and on Twitter @BlackdogDNA
Raise money with iStreet!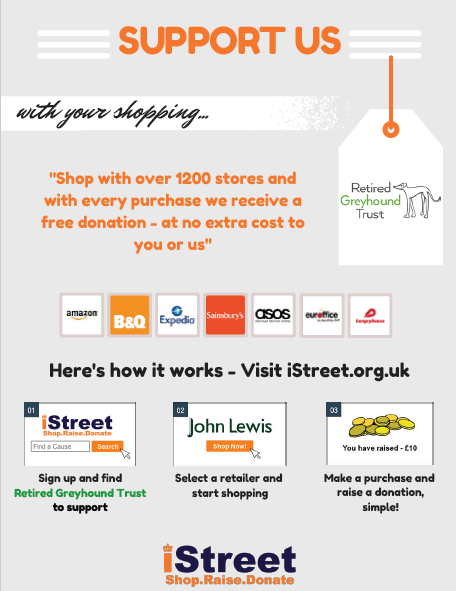 Do you ever shop online? If so, you can raise money for the trust without spending an extra penny! With iStreet, you can shop at major retailers like Sainsburys, Amazon, Marks & Spencer, O2, John Lewis, Groupon and Expedia and they will make a small donation to us at no cost to you! So whether you're shopping for your weekly groceries, taking out a phone contract, booking a holiday or just treating yourself, you can make a real difference.
Signing up to iStreet is free and easy. Simply visit our iStreet page and click "Support Us Now" to sign up with your email address. Then, next time you shop, just log in to your iStreet account, search for the retailer you want to shop with and click the link to go straight through to their website. From there, you can shop as normal and have the satisfaction of knowing that every penny you spend is helping support greyhounds!

Give as you live
Did you know that you can now help support the trust just by shopping online.
You can shop via Give as you Live at over 4,000 top online retailers, and when you do, Give as you Live will donate a percentage of every pound you spend to us!
--------------------------------------------------
Step 1
Sign up to Give as you Live on your desktop, tablet or mobile. It's fast, simple and 100% secure.
Step 2
Shop for millions of products at over 4,000 top online retailers including Amazon, John Lewis, eBay and Expedia.
Step 3
When you shop, a percentage of the purchase value is donated to us. The best thing is, it won't cost you a penny extra!
What are you waiting for...........Start shopping now by clicking here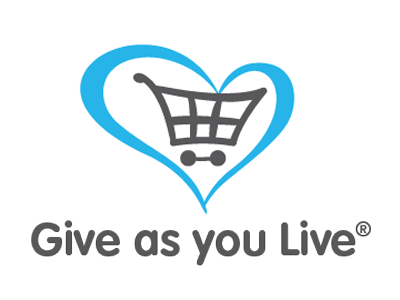 Give a Gift
Have you received a gift card you don't want or perhaps you'd prefer one for a different shop? Then why not use Give a gift to donate a percentage of the gift card to us and have the remaining balance put on a gift card of your choosing.
Click here to find out how.